Hydram Achieves Rail Bonding Standard DIN 6701
Hydram Engineering is pleased to announce that it has attained certification to Bonding Standard DIN 6701-2, the accreditation for the use of adhesive bonding in the manufacture of rail vehicles and parts of rail vehicles.
DIN 6701 is a series of standards comprising a comprehensive set of rules for quality assurance in the field of bonding and adhesives use in the rail vehicle industry.  Companies who achieve the certification can demonstrate that they can safely use the full potential of adhesive bonding technology.
"This rail bonding standard is a must-have accreditation for winning new work in the rail sector and Hydram is only the third business in the UK to have gained it," says Managing Director David Greatorex.  "Earlier this year we sent two employees to the Fraunhofer Institute in Germany for their training to become European Adhesive Specialists, and a dedicated project team was established to enable us to qualify for the standard."
Requirements to comply with this DIN standard include demonstrating proof of officially recognised qualifcations in adhesive bonding, a suitable quality management system, documentation for key bonded joints, suitable workplaces and many others.
Hydram was assessed by TBBCert during a full day audit in early December and qualified for the standard on its first attempt.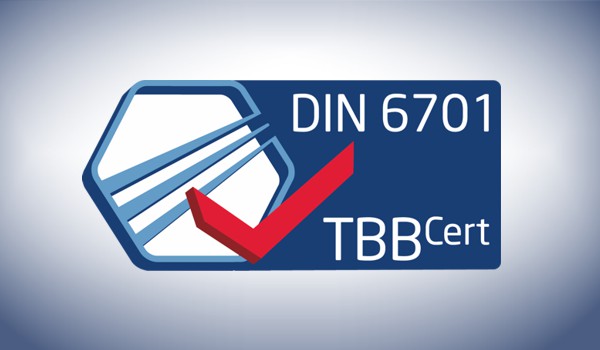 Bonding in Rail Vehicle Manufacture
Over the past 20 years there has been rapid growth in the use of adhesive bonding technology.  The transport vehicle manufacturing sector is one of the key areas where adhesives have been used to bring about enormous technological advancement.  Rail vehicles, like planes, cars and ships, have become ever lighter due to the use of adhesives.  The advantages of adhesive bonding for transport vehicles are higher speeds, lower fuel consumption, greater comfort and more efficient manufacturing.

The use of adhesives in the rail vehicle manufacturing sector has become a genuine alternative to traditional joining techniques such as rivetting and welding.  The reduction in vehicle weight, improved space usage, new design opportunities, less corrosion and easier repairs and disassembly have made adhesive bonding attractive in this sector.  Lighter weight rail vehicles which can withstand higher loads – this is an objective which many manufacturers achieve using adhesive bonding technology.
DIN 6701-2 Standard
Adhesive bonds on rail vehicles have differing safety requirements. For this reason, the DIN 6701-2 standard, which was published in May 2006 by the German Eisenbahn-Bundesamt (Federal Railway Authority), was declared to represent the current state of the art in February 26, 2008.  Companies that want to offer bonded products or related services in accordance with the standard must have the relevant production facilities audited and certified.
Hydram Serving the Rail Sector
Hydram is a leading supplier of sheet metal components, assemblies and light fabrications to customers throughout the UK.  The metal fabrication company has become particularly successful in the railway rolling stock and trackside location case industries.  The company provides the full range of subcontract engineering services, including laser cutting, metal bending, sheet metal fabrication, powder coating and assembly.
Hydram is also certified to the following standards:
ISO 9001:2015 Quality Standard
ISO 14001:2015 Environmental Standard
ISO 45001:2018 Health and Safety Standard
ISO 3834-2:2005 Welding Standard
BS EN 15085-1 Welding CWRVC Standard
Growing Reputation
Hydram Engineering Ltd. has been trading for over 40 years and during that time it has built an enviable reputation in the subcontract engineering sector.  This is reflected in its strong customer portfolio, which includes Caterpillar, Hitachi Rail Europe, Mitsubishi Electric, and Ideal Boilers.  In June 2018 Hydram became part of the Dynamic Aerospace and Defense group based in the US.
Back to Articles